With a background as a music store owner and current position in the entertainment department of the Soaring Eagle Casino and Resort, it has been a natural development for Rob Cook to start a backline instrument/AV gear rental service. Contact Rob for quotes. (989) 463-4757

Amplifiers
Fender Twin Reverb (2)
Fender Super Reverb
Fender Pro Reverb
Ampeg SVT bass amp with 810 speaker cabinet
Gallien-Krueger GK-800 Bass Amp (Laney 4-10 and 2 Bag End 1-18 cabinets)
Roland KC500 keyboard amp

Keyboards
Kurzweil 2500X 88-note weighted keyboard
Kurzweil PC-88
Single and double keyboard stands

Drum gear
DW kit: white lacquer, 8,10,12,14,16 toms, 16x20 and 16x22 kick
DW kit #2: White Satin Flame covering; 12 rack, 14 floor, 18 kick, matching snare

Ludwig kit: Classic Birch 8,10,12,14,16 toms, 16x18, 16x20, and 16x22 kick drums.

Wide assortment of professional thrones, hihat pedals, snare stands, cymbal stands, etc.

Snare drums:
Ludwig Acrolite 404 (late 1970s) 5x14
Ludwig Supraphonic 400 (early 1970s) 5x14 Alloy shell
Ludwig Supraphonic 400 (early 1970s) 5x14 Alloy shell with Montineri tube lugs
Ludwig Supraphonic 402 (early 1970s) 6.5x14 Alloy shell
Ludwig Supraphonic 400 (1960s) 5x14 Brass shell
Ludwig Pioneer (1960s) 5x14 wood shell 6-lug
Craviotto Timeless-timber birdseye maple 5x14
George Way (New Dunnett series) 6.5x14 white lacquer
Spizzochino (1997) 5x14 Olive-wood stave construction
Lang Gladstone (1995) 6.5x14 wood shell
NSMDeluxe 4x14 (2002) Brass shell, engraved by John Aldridge
Zildjian/Noble & Cooley limited edition 4x14, Cymbal metal shell
Orlich Glass snare drum, 8x14

Cymbals:
Wide selection of cymbals, which include Zildjian, Sabian, Istanbul. Spizz.

Percussion
Congas: LP Classic Series
Bongos: LP Classic Series
Timbales: LP Tito Puente model
Small percussion accessory assortment; shakers, tambourines, cowbells, etc.
Lighting
Times Square QF-1000 1000-watt follow spot
2 crossbars of 4 par 56 cans with 200-watt lamps, 2 NSI dimmer packs, 8-channel controller
Audio
Mackie 1402 mixer
Mackie Onyx series 1620 mixer with computer interface
Mackie Onyx 24-4 mixer
Audio-Technica wireless mike systems: handheld, lavalier, headset
CD and Cassette decks, CD recorder
Zoom H4 digital audio recorder
Electro-Voice SX500 speakers
Electro-Voice QRX-115 speakers
Bag End 1-12 speakers, Community 1-12 portable speakers
Bag End Subwoofer system with M1 processor, Bag End Infrasub powered subwoofer
Aura "thumper" system for drummers (subwoofer attached to drum seat, a literal "kick in the rear")
Crown power: Macrotech 1200 and 2400, CT400, XLS-402

Video
Eiki 4000-Lumen LCD video projector
NEC 3000-Lumen LCD video projector, screen
Powerpoint via Dell Inspiron (XP) laptop or HP (Vista) Tablet
Canon XL-1s Mini-DV Camcorder systems (3) + LANC remote control system with 3-way switchbox, Sony Hi-8 and 8mm camcorder/cameras
Adobe Final Cut Studio editing suite, Power-Book Pro computer system
Sony DFS-300 and DFS-500 Professional Video switchers
Sony HD1024 scaler/scan converter
TvOne quad 4" LCD video monitor
Sony 25" video monitors (7 in stock)
assortment of video distribution amps, humbuckers, etc.

Panasonic AG-1 Format conversion deck (NTSC to PAL to SECAM, etc)
STAGING INFRASTRUCTURE:
Portable Stage Systems: Rebeats is a dealer for Intellistage portable stage systems and we have product in stock. These systems are easy for one person to transport and set up, yet solid and heavy enough to support 185 lbs/sq foot. See these systems in use at the Chicago Drum Show produced by Rebeats! We now have enough for the main 8x12 stage (6 4x4 sections) and the smaller 6x6 side stage (4 3x3 sections.)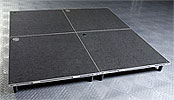 Auralex Hoverdeck Isolation system: No longer will hollow stages resonate with a muddy rumble, or will concrete floors suck the tone out of your kick drum and floor tom. In the studio, on stage or in the practice room, HoverDeck's rugged MDF laminate core & web-like ISO-Puck modular risers minimize structure-borne sound transmission and sympathetic vibrations between drums and hardware. See and hear the Hoverdeck in use at the Chicago Drum Show produced by Rebeats!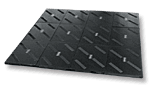 Light stand/truss system: We have two complete sets like the one shown below. Each set consists of two tripod stands, 2 4-foot crossbars, and 3 5-foot cross trusses. You can use all three for a 15' spread, or just 2 for a 10-foot spread.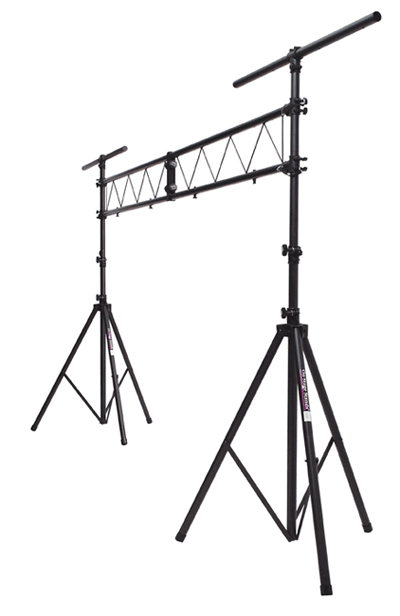 Pipe and Drape: 8 ft high, from 6 to 20 feet wide. Royal Blue drapes. (Any quantity of black also available.)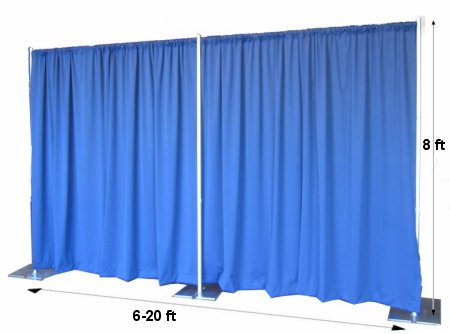 Additional AV equipment: Don't see it here? We can handle any size job by partnering with Henry Kubin's Everything Audio-Visual and other area contractors. .Click here for the EAV equipment list.